A double-edged sword-telemedicine for maternal care during COVID-19: findings from a global mixed-methods study of healthcare providers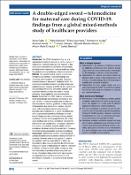 Abstract
Abstract Introduction: The COVID-19 pandemic has led to a rapid implementation of telemedicine for the provision of maternal and newborn healthcare. The objective of this study was to document the experiences with providing telemedicine for maternal and newborn healthcare during the pandemic among healthcare professionals globally. Methods: The second round of a global online survey of maternal and newborn health professionals was conducted, disseminated in 11 languages. Data were collected between 5 July and 10 September 2020. The questionnaire included questions regarding background, preparedness and response to COVID-19, and experiences with providing telemedicine. Descriptive statistics and qualitative thematic analysis were used to analyse responses, disaggregated by country income level. Results: Responses from 1060 maternal and newborn health professionals were analysed. Telemedicine was used by 58% of health professionals and two-fifths of them reported not receiving guidelines on the provision of telemedicine. Key telemedicine practices included online birth preparedness classes, antenatal and postnatal care by video/phone, a COVID-19 helpline and online psychosocial counselling. Challenges reported lack of infrastructure and technological literacy, limited monitoring, financial and language barriers, lack of non-verbal feedback and bonding, and distrust from patients. Telemedicine was considered as an important alternative to in-person consultations. However, health providers emphasised the lower quality of care and risk of increasing the already existing inequalities in access to healthcare. Conclusions: Telemedicine has been applied globally to address disruptions of care provision during the COVID-19 pandemic. However, some crucial aspects of maternal and newborn healthcare seem difficult to deliver by telemedicine. More research regarding the effectiveness, efficacy and quality of telemedicine for maternal healthcare in different contexts is needed before considering long-term adaptations in provision of care away from face-to-face interactions. Clear guidelines for care provision and approaches to minimising socioeconomic and technological inequalities in access to care are urgently needed.
Keywords
Maternal health
,
COVID-19
,
Pandemic
,
Newborn healthcare
,
Research Subject Categories::MEDICINE::Surgery::Obstetrics and women's diseases
Citation
Galle A, Semaan A, Huysmans E, Audet C, Asefa A, Delvaux T, Afolabi BB, El Ayadi AM, Benova L. A double-edged sword-telemedicine for maternal care during COVID-19: findings from a global mixed-methods study of healthcare providers. BMJ Glob Health. 2021 Feb;6(2). doi: 10.1136/bmjgh-2020-004575. PubMed PMID: 33632772; PubMed Central PMCID: PMC7908054.