Literature, Society And Terrorism: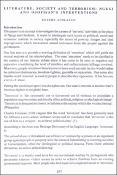 Abstract
This paper is an attempt to investigate the causes of 'terrorist' activities in the plays of Ngugi and Osofisan. It seeks to interrogate such issues as political, social and economic malaise in society especially the issues of poverty, hunger and land expropriation which necessitate arrned resistance from the people against the government.
Citation
Literature, Society And Terrorism: Ngugi And Osofisan's Interventions. Afolayan,B.F. (2006) Faculty of Arts International Conference on 'Global understanding in the Age of Terrorism. Pp. 197 - 214.
Collections