Hypertension in Nigerians with type 2 diabetes: a multicentre survey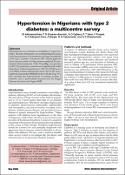 Abstract
Hypertension is a common co-morbidity of type 2 dia- betes. The aim of this study was to define the prevalence and characteristics of hypertension in Nigerian patients with type 2 diabetes. Data from 2487 diabetic patients from various centres in Nigeria were analysed. Hyper- tension (blood pressure >140/90 mmHg) was present in 58%. Hypertensive patients were significantly older than those without hypertension (55±14 vs 49±10 years, p=0.0004); and also diabetes duration (3±0 vs 2±5 years, and body mass index (BMI) (28.0±4.6 vs 20.3±4.9 kg/m2). We calculate that hypertension is common in type 2 diabetes and is particularly characterised by longer disease duration and higher BMI.
Keywords
Diabetes
,
Hypertension
,
Nigeria
,
Research Subject Categories::MEDICINE
Citation
Akhuemokhan IK, Ehusani-Anumah FO, Ogbera AO, Ikem RT, Puepet F, Adeyemi-Doro AO, Eregie A, Fasanmade OA, Ohwovoriole AE (2008). Hypertension in Nigerians with type 2 diabetes: a multicentre survey. African Journal of Diabetes Medicine.
Collections