Prematurity in newborns in urban and rural general hospitals in Lagos state: a comparative study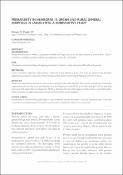 Abstract
BACKGROUND: Preterm deliveries occur in millions of pregnancies worldwide and Nigeria has one of the highest numbers of preterm births. They are contributors to childhood mortality, morbidity and complications in later life of the child. AIM: This study was aimed at describing and comparing prematurity in newborns in urban and rural health facilities in Lagos state. METHODS: It was a descriptive comparative study involving 3 urban and 3 rural hospitals in Lagos State. Data was obtained using interviewer-administered questionnaire. Information obtained included mothers' features, weight and morbidity patterns of the newborns. RESULTS: Mothers who lacked formal education were more in the rural hospitals than urban hospitals. Preterm babies in urban areas had mothers comparatively older than those in the rural hospitals. Low birth weight occurred in 68.8% of the babies born with 1.9% of them being extreme low birth weight. Illness was diagnosed in 58.8% of the babies with more babies diagnosed in urban than in rural health facilities. However mortality was higher among infants in rural hospitals than those in urban hospitals. CONCLUSION: Preterm babies in rural and urban facilities differ in respect to mortality rate and their mothers in terms of educational status. There needs to be further research into prematurity in newborns and assessment of facilities for newborn care in rural areas.
Keywords
Newborns
,
General hospitals
,
Childhood mortality
,
Preterm births
,
Research Subject Categories::MEDICINE::Social medicine
Citation
Balogun M, Pepple EF. Prematurity in newborns in urban and rural general hospitals in Lagos state: a comparative study. Gazette of Medicine 2015; 3(1): 258-264.