Niyi Osundare and the Interface Language Factor.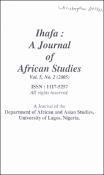 Abstract
Niyi Osundare is arguably the guiding light of the "post"- Soyinka- Okigbo - Clark generation of African poets, a fact borne out by not only his prolificity but the numerous local and international awards and decorations he has won. Osundare has steadily matured over time in his deft handling of language through his unique conflation of his native Yoruba (source language) and the English language (i.e. target language). This phenomenon, akin to the Achebean prescription, is what we have termed "the Interface language". Thus. this paper seeks to demonstrate using Osundare's oeuvre how "the people's poet" does this
Keywords
Interface Language
,
Native Language
Citation
Anyokwu,C. (2005) Niyi Osundare and the Interface Language Factor Christopher. Ihafa: Journal of African Studies, Department of African and Asian Studies, University of Lagos, Akoka, Lagos, Nigeria. Vol. 5, (2), p. 85 - 100.
Collections