Ebola virus disease in the eyes of a rural, agrarian community in Western Nigeria: a mixed method study.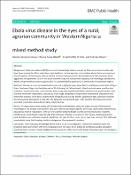 Abstract
Background: Ebola virus disease (EVD) is a severe hemorrhagic disease caused by Ebola virus. Several outbreaks have been reported in Africa and often originated from remote agrarian communities where there are enormous misconceptions of the disease, refusal of early isolation and quarantine, and unsafe burial rites practices which aggravates the epidemics. It is on this basis that this study was conducted to (assess) the knowledge, perceptions, beliefs and preventive practices against EVD in a predominantly agrarian rural community in Southwest Nigeria. Methods: This was a cross-sectional study conducted in Igbogila town, Yewa North Local Government Area of Ogun State, Southwest Nigeria in the latter part of 2014 during the EVD outbreak. Mixed methods were used for data collection. Quantitative data collection was done using a pre-tested interviewer administered questionnaire. Four hundred and seven respondents selected by multi-stage sampling technique were interviewed. Descriptive and inferential statistics were done, and the level of significance was set at 0.05. Qualitative data collection involved four focus group discussions a year after the epidemic was declared over in the country. The discussions were recorded, transcribed and analyzed along major themes. Results: All respondents were aware of EVD with radio and television being the major sources of information. Knowledge of the disease was however very poor with many misconceptions and it was significantly influenced by educational level of respondent. EVD survivors will be welcomed back into the community by few residents (36.8%) and a much fewer proportion (27.2%) will freely entertain a survivor in their house. Most would prefer local herbalists over orthodox medical practitioners to care for their loved one in case they contract EVD. Although respondents knew that burying a victim is dangerous, they opposed cremation. Conclusion: There was poor knowledge of EVD with a lot of misconceptions. Community members were not proactive about prevention with dire consequences in the event of an outbreak. Continuous public education should be done via mass media, traditional institutions and other community-based channels as part of emergency preparedness.
Keywords
Ebola
,
Infectious disease
,
Epidemic
,
Knowledge
,
Research Subject Categories::SOCIAL SCIENCES::Social sciences
Citation
Abiodun Benjamin Idowu, Ifeoma Peace Okafor , Ezekiel Sofela Oridota and Tochi Joy Okwor (2020). Ebola virus disease in the eyes of a rural, agrarian community in Western Nigeria: a mixed method study. Idowu et al. BMC Public Health 20:1321https://doi.org/10.1186/s12889-020-09441-7.