Nutritional assessment and maternal perception of toddler body size using Toddler Silhouette scale in Nigeria, a developing country.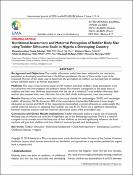 Publisher
International Journal of MCH and AIDS (IJMA)
Abstract
Background and Objectives: The toddler silhouettes scales have been validated in the caucascian population in developing countries but in the African population, the use of these scales is yet to be evaluated. The aim of this study was to determine the perception of mothers on the body size of toddlers using a validated scale in an African population. Methods: This was a cross-sectional study of 241 mothers and their toddlers. Study participants were recruited from the immunization and pediatric clinics. The mothers' perceptions of the body sizes of toddlers and their own child was determined with the use of a validated 7-scale toddler silhouette. Each mother also assessed their own child with the scale. Each child's anthropometry was documented. Results: Majority of the mothers were able to correctly classify the underweight (95.0%) and overweight toddler silhouettes (95.7%). However, 30% of the respondents misclassified Silhouette 6 (overweight silhouette) as normal and 48.2% of the respondents misclassified a normal silhouette as underweight. The overall maternal accuracy in assessing their toddler size was 41.1%. There was a significant relationship between maternal accuracy and maternal educational status, tribe, and toddler size. Conclusions and Global Health implications: Toddler silhouette scales are a quick way of assessing the body size of children and could be of significant use in developing countries. There is a need for caregivers to accurately assess the body size of their children as this will significantly influence the food mothers will give their children and thus children's eventual growth and development.
Keywords
Nutritional assessment
,
Toddler Silhouette
,
Child Anthropometry
,
Developing Countries
,
Childhood Obesity
,
Nigeria
,
Research Subject Categories::MEDICINE
Citation
Adeniyi OF, Ekanem E, Olatona F. A. Ajayi E.O. Nworgu N. Nutritional assessment and maternal perception of toddler body size using Toddler Silhouette scale in Nigeria, a developing country. International Journal of MCH and AIDS (IJMA). 2018; 7(1). 9-16