Reversible diabetes mellitus in a male Nigerian: Fact or myth? A case report.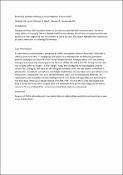 Publisher
Endocrinology and metabolism society of Nigeria
Abstract
Introduction Diabetes mellitus (DM) has been known to be a chronic disorder with no known cure. The three major pillars of managing DM are lifestyle modifications, dietary adjustments and pharmacotherapy. Studies are now suggesting that the reversal of DM is possible. This report highlights the importance of caloric restriction in achieving DM reversal. Case Presentation 41-year-old accountant/banker, presented at LUTH's new patient clinic on November 2020 with a referral letter from EKSUTH emergency unit where he presented with the following symptoms: polyuria, polydipsia and blurred vision. He was diagnosed with hyperglycaemic crisis and actively managed and eventually discharged on s/c Humulin 70/30 14IU AM & 6IU PM. During his first clinic visit to EDM LUTH, his height – 1.77m, weight- 92kg, BMI-29.4kg/m2. He had stopped using his insulin, FBS: 116mg/dl, RBS done on site-92mg/dl and HbA1c-9.9%. He was placed on metformin, glimepiride, rosuvastatin and advised on lifestyle modification, dietary adjustment and adherence to medications. Subsequent clinic visits revealed that he didn't use his medications. However, he restricted his diet by portion control, feeding more of nuts, fruits and vegetables and exercising for one hour daily. There was a steady decline in his FBS, HbA1c from 9.9% to 5.2% and weight from 92kg to 62kg. His recent clinic- August 2022 visit showed that he gained 5kg (67kg) and his HbA1c rose to 5.7%. he attributed the rise to unrestricted diets and reduced exercise. Conclusion Reversal of DM is achievable with low caloric diets or carbohydrate restriction and exercises as seen in our index patient.
Keywords
Reversible diabetes, carbohydrate restriction, low calorie restriction, HBA1c, weight loss
Citation
Olopade OB, Oputa-Onwusa O, Ogo E, Odeniyi IA, Fasanmade OA. Reversible diabetes mellitus in a male Nigerian: Fact or myth? A case report. Book of abstracts EMSON 2022
Collections