Apathetic Thyrotoxicosis Presenting with Hemoptysis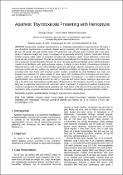 Publisher
Science and Education Publishing
Abstract
Introduction: Apathetic thyrotoxicosis is an uncommon manifestation of hyperthyroidism. We report a case of apathetic thyrotoxicosis in an elderly Nigerian woman presenting with hemoptysis. Case Presentation: An 85 year old woman with past medical history of hypertension and euthyroid goiter presented with a two-week- history of subjective weight loss, cough, hemoptysis and progressively worsening dyspnea. Examination findings included dyspnea, pallor, goiter, an irregularly irregular pulse, tachypnea, jugular venous distension, a third heart sound and rales in both lung bases. Thyroid function tests revealed elevated free triiodothyronine and free thyroxine with a suppressed thyroid stimulating hormone. Her brain natriuretic peptide was 980pg/L and her electrocardiogram revealed atrial fibrillation with rapid ventricular response. Findings on trans-thoracic echocardiogram included a dilated left atrium, mild concentric left ventricular hypertrophy with grade 1 diastolic dysfunction, but preserved left ventricular systolic function, without any significant valvular abnormalities. A diagnosis of apathetic throtoxicosis presenting with heart failure with preserved ejection fraction, precipitated by atrial fibrillation was made and treatment was instituted. The patient reverted to sinus rhythm with resolution of her hemoptysis and heart failure symptoms within one week of admission. Discussion: Apathetic thyrotoxicosis is an atypical manifestation of hyperthyroidism more commonly found in the elderly. It presents with cardiac disease, wasting or depression with only a few of the more typical clinical manifestations of thyrotoxicosis. The hemoptysis found in our patient is most likely due to pulmonary edema from left ventricular failure. Conclusion: A diagnosis of apathetic thyrotoxicosis should be considered in the elderly patient presenting with heart failure in the absence of the usual risk factors for heart failure. Early recognition and treatment can reduce the morbidity and mortality associated with this condition.
Keywords
Apathetic
,
Hemoptysis
,
Hyperthyroidism
,
Thyrotoxicosis
,
Research Subject Categories::MEDICINE
Citation
Sheyin O, Falade T, Fasanmade O, "Apathetic Thyrotoxicosis Presenting with Hemoptysis." American Journal of Medical Case Reports, vol. 2, no. 9 (2014): 173-174. doi: 10.12691/ajmcr-2-9-3.
Collections