An Evaluation of Nigerian Choristers' Leverage on Technology in The Face of Covid-19 Pandemic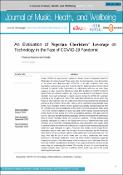 Publisher
Journal of Music, Health, and Wellbeing
Abstract
During COVID-19, sixty choristers gathered at Mount Venom Presbyterian Church in Washington for choir rehearsal. Three weeks after the choral practice, some 45 members of the group were diagnosed with COVID-19 or ill with symptoms, three were hospitalized, and two have now died. A month after the disastrous Mount Venom choral rehearsal, the World Health Organization, in collaboration with pop star Lady Gaga, organized a virtual concert that helped raise about $127.9 million for COVID-19 relief. In light of these two different incidents, this study is an evaluation of how Nigerian church choristers have used technology in church services during the COVID-19 Lockdown involving a ban on gatherings. 69% of the respondents claimed the church where they feature as choir members used live online music that is being streamed live but featured just two or three members of the choir. 14% out of the respondents used recorded music by the church choristers or other forms of gospel music already recorded during the time the choristers were meant to originally perform under normal circumstances. Sadly, about 17% of the choristers claimed no music was used in their various churches during the online church services during the COVID-19 pandemic lockdown. This gave room for concern; this study identified problems associated with the performance/non-performance level of church choristers during the COVID-19 pandemic. Through questionnaires purposely distributed as a link on the Google form to over a hundred and thirty (134) choristers on the researcher's WhatsApp platforms, these respondents were equally asked to send the same link to their friends or family who sing in the choir residing predominantly within the Lagos metropolis in Nigeria. Responses were collated via the Google forms. Descriptive analyses were made. The chi-square test/cross-tabulation and the Kendal tau were used to find the correlation between online performance and social media use. The study finds that the use of social media does not have a relationship with online performance. The study's implication reveals that, if the COVID-19 pandemic negatively impacts the choristers, then other aspects of the economy are not in safe hands from the havoc the COVID-19 pandemic has wrecked. Hence, singers and teachers of music should ensure they are technologically inclined. The teaching of music in school should also include computer music and how to perform online, which may lead to the school reforming her curriculum.
Keywords
COVID-19
,
Technology
,
Online platforms
,
Ministration
,
Choristers
,
Research Subject Categories::HUMANITIES and RELIGION::Aesthetic subjects
Citation
Nweke, F.E. (2021). An Evaluation of Nigerian Chorister's Leverage on Technology in the Face of COVID-19 Pandemic. UK. Journal of Music, Health and Wellbeing.
Collections