Localised Tetanus In Lagos, Nigeria.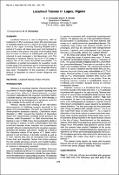 Publisher
Lagos University Medical Society (LUMS)
Abstract
Localized tetanus is rare in Nigerians, with an incidence of 1.8% in a previous report. We report six cases of localized tetanus out of total of 95 cases of tetanus seen at the Lagos University Teaching Hospital over a period of 3 years. All cases were seen and managed by one or both of the authors, the policy in the hospital being that all cases of tetanus in adolescents and adults are referred to and managed by the Neurology unit. The frequency of localized tetanus was 6.3% of all cases of tetanus. Two of the cases had partial immunization. The contribution of partial immunization to causation needs further study. The commonest site of involvement was the lower limb (in five of the cases). No case of cephalic tetanus was seen. Recognition of the existence of localized tetanus is important to ensure correct diagnosis and treatment.
Keywords
Tetanus
,
Localized
,
Clinical characteristics
,
Nigeria
,
Outcome
,
Research Subject Categories::MEDICINE
Citation
Okubadejo NU and Danesi MA. Localised Tetanus In Lagos, Nigeria. Nigerian Quarterly Journal of Hospital Medicine.1999;9(4):279-281.
Collections