Severe Acute Respiratory Syndrome (SARS): An Overview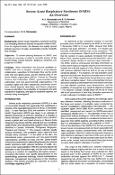 Publisher
Lagos University Medical Society (LUMS)
Abstract
Background: Severe acute respiratory syndrome (SARS) is an emerging infectious disease recognized in March 2003. From its original location, the disease has rapidly spread globally, leaving in its wake considerable anxiety, morbidity and mortality. Objective: To review existing literature on SARS, and provide an overview of what is currently known of the epidemiology, clinical features, diagnosis, treatment and prognosis of SARS. Findings: Much information has become available on SARS, and this is largely credited to international collaboration, expedition of information flow via the world wide web and global press, and the leading roles of the World Health Organization (WHO), Centres for Disease Control and Prevention (CDC), governmental health authorities, and non-governmental organizations. The causative agent has been sequenced, preliminary short-term clinical features described, and interim prevention measures identified. The probability of resurgence, the gold standard for diagnosis, and specific treatment regimes, are actively being investigated.
Keywords
Severe acute respiratory syndrome (SARS)
,
Infectious disease
,
Emerging infectious disease
,
Nigeria
,
Research Subject Categories::MEDICINE
Citation
Okubadejo NU, Bandele EO. Severe Acute Respiratory Syndrome (SARS): An Overview. Nigerian Quarterly Journal of Hospital Medicine.2003;13(1-2):1-5.
Collections