Influence of diabetes education on self-care behaviors, anthropometric indices and blood pressure in type 2 diabetes mellitus patients attending Lagos University Teaching Hospital.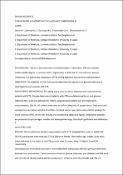 Publisher
Endocrinology and metabolism society of Nigeria
Abstract
Background: Accumulation of excessive body fat is linked to the development of T2DM. The cellular and physiological mechanisms responsible for this link between obesity and T2DM are complex and involve adiposity-induced alterations in β cell function, adipose tissue biology, and multi-organ insulin resistance, which are often ameliorated with adequate weight loss. Optimal management of T2DM involves a combination of self-care behaviours, e.g. regulating calorie intake; being physically active; taking medications as recommended; monitoring blood glucose levels etc. These can be difficult lifestyle changes to make and sustain without support. Aims and Objectives: This study looked into the impact of DE (Diabetes Education) on self-care behaviours, anthropometric and blood pressure measurements. Methods: Prospective randomized intervention trial using a structured DE programme.153 subjects with T2DM were randomised into 2 groups. Data collected at baseline and end of study included, anthropometric indices, blood pressure and self-care behaviours (SCI-R). Results: A total of one hundred and forty-two (142) completed the study giving a completion rate of 92.8%. DE resulted in significantly greater improvement in the WC (p=0.004), SBP (p<0.001) and DBP (p<0.001) in the intervention group compared to the control group. The mean change in self-care behaviours was significantly higher in the intervention group compared to the control group (9.50 ±6.45 vs 2.84 ±3.59, p= 0.001). Conclusion: Diabetes education is key in the management of T2DM patients. It has significantly positive outcomes on self-care behaviours, waist circumference (a marker of insulin resistance) and blood pressure. Weight reduction (a post-intermediate diabetes education outcome) is a key target in diabetes care which will help to improve glycaemic control and overall reduction of the cardiovascular risk of diabetes patients.
Keywords
Diabetes education, self-care, anthropometry, blood pressure
Citation
Fasanmade OO, Odeniyi IA, Olopade OB, Fasanmade OA, Ohwovoriole AE. Influence of diabetes education on self-care behaviors, anthropometric indices and blood pressure in type 2 diabetes mellitus patients attending Lagos University Teaching Hospital. EMSON 2022 Book of abstracts
Collections