A Paradigm Shift in Medical, Dental, Nursing, Physiotherapy and Pharmacy Education: From Traditional Method of Teaching to Case-Based Method of Learning- A Review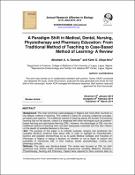 Publisher
Annual Research & Review in Biology
Abstract
Background: The most commonly used pedagogy in Nigeria and most other countries is the didactic method of teaching. This method is useful for covering underlying concepts, principles and systems. The traditional method of teaching places the burden of promoting learning fully on the teacher, unless it is integrated with other techniques such as problem- based learning and case-based learning (CBL). However, the advantages of CBL over the traditional method of teaching have not been adequately evaluated and this also reflects on the dearth of available literature in this area. Aim: The purpose of this paper is to critically evaluate, analyze and synthesize the available literature evidence base about CBL in order to highlight its merits/benefits, barriers and possible shortcomings so as to guide Medical Colleges and Faculties of Pharmacy in Nigeria in taking a decision on whether or not to begin to explore the possibility of introducing CBL in their medical, dental, physiotherapy, nursing and pharmacy curricula. Methods: The study was literature-based. The review was focused on CBL for both preclinical and clinical health professional programmes including Medicine, Dentistry, Physiotherapy, Nursing and Pharmacy. Papers were required to have outcome data on effectiveness. The search covered the period from January 1990 to December 2013 and the following databases: MEDLINE, EMBASE, Cochrane Library, International Education Research Database, Web of Knowledge (WoK) and ERIC (Educational Resources Information Center) database. Results: The traditional modes of teaching of science and medical subjects focus mainly on the transmission of content by disciplinary experts. By nature, these teaching processes by themselves are not effective at equipping the students in the areas of communication, critical thinking, creativity, self-directed and collaborative learning. CBL adequately addresses most of these deficiencies in pedagogy. In their effort to find solutions and reach decisions through discussion, learners sort out factual data, apply analytic tools, articulate issues, reflect on their relevant experiences, and draw inferences they can relate to new situations that are often not given within the scope of a lecture but that could be very vital in professional practice. In the process, they acquire substantive knowledge, become innovative and develop analytic, collaborative and communication skills. Conclusion: Colleges and faculties of Medicine and Pharmacy should consider the inclusion of CBL in their curricula for the teaching of medicine, dentistry, physiotherapy, nursing, pharmacy and other allied programmes.
Keywords
Teaching; learning; case-based learning; problem-based learning; medical education; traditional method; didactic method; curriculum
Citation
1. Osinubi AAA. Ailoje-Ibru K. (2014). A Paradigm Shift in Medical, Dental, Nursing, Physiotherapy and Pharmacy Education: From Traditional Method of Teaching to Case-Based Method of Learning- A Review. Annual Research & Review in Biology, 4(13):2053-2072. DOI: 10.9734/ARRB/2014/9053.
Collections