Health-seeking preferences of residents of Mushin LGA, Lagos: A survey of preferences for health care provision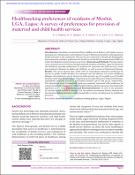 Publisher
Journal of Clinical Sciences
Abstract
Introduction: Attendance at antenatal clinics, skilled care at delivery and timely access to postnatal care, immunization, and treatment in case of illness are essential to reducing adverse health outcomes in the community. This survey was conducted to identify the demographic and community members' preferences for health service facility for maternal and child care within the Mushin local government area (LGA). Materials and Methods: This descriptive cross‑sectional survey was done among household residents in Mushin, Lagos to determine the healthcare provider preferences of residents for maternal and child services, severe and nonsevere illnesses in adults and children, as well as cases of behavioral illnesses. Results: The survey showed that a third (33%) of respondents expressed a preference for doctors in public health facilities for antenatal care and delivery. For severe childhood illnesses, the preference was for doctors in either private (45.1%) or public (44.1%) health facilities rather than nonphysicians. Regarding severe adult illnesses or behavioral illnesses, respondents preferred doctors in government facilities (48.1% and 59.9%, respectively). The educational level of household heads was positively associated with preference for maternal and child services in accredited health facilities and this association was statistically significant at P < 0.05. Conclusion and Recommendations: In view of the proximity of a tertiary health facility in Mushin LGA, the authors recommend further research into the decision‑making dynamics within households in terms of preferences for healthcare provision.
Keywords
Healthcare provision
,
Healthcare seeking patterns
,
Lagos
,
Nigeria
,
Research Subject Categories::MEDICINE
Citation
Roberts AA, Balogun MR, Sekoni AO, Inem V, Odukoya OO. Health-seeking preferences of residents of Mushin LGA, Lagos: A survey of preferences for health care provision. Journal of Clinical Sciences 2015; 12: 9-13.