Evaluation of the roles of HIV co-infection and socio-demographic factors as determinants of Quality of Life among Nigerians with Tuberculosis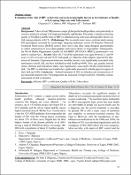 Publisher
Bangladesh Journal of Medical Science
Abstract
Background: Tuberculosis [TB] remains a major global public health problem, and particularly in resource-restricted settings with disproportionately high burden. This study is aimed at assessing quality of life [QoL] and the roles of HIV co-infection along with socio-demographic factors on QoL among subjects with TB. Methodology: This is a multi-center cross-sectional study among 440 participants recruited by multi-stage sampling technique across 40 Directly Observed Treatment Short-course [DOTS] centres. Interviews were done using designed questionnaire to collect information on socio-demographic and clinical details of respondents. Subsequently, the World Health Organization Quality of Life-BREF [WHOQOL-BREF] questionnaire was used to evaluate QoL. Results: Most (61.1%) of the participants was aged between 21 and 40 years, 61.6% were married and 74.5% had a paid job. Majority of the subjects reported fair QoL across all domains. Employment status and monthly income were significantly associated with participants overall QoL and their satisfaction with health (p<0.05). Also, age, gender, marital status, ethnicity and educational status were significantly associated with the social domain of QoL. The HIV co-infection was found to be significantly associated with the physical aspect of their QoL (p<0.05). Conclusion: Optimal treatment of HIV co-infection and incorporation of psychosocial medicine into TB management are indicated for improved QoL. Similarly, routine assessment of QoL is desirable.
Keywords
Africans
,
HIV co-infection
,
Quality of Life
,
Tuberculosis
,
Research Subject Categories::MEDICINE::Social medicine
Citation
Olagunju PJ, Odukoya OO, Olagunju AT, Balogun MR. Evaluation of the roles of HIV co-infection and socio-demographic factors as determinants of Quality of Life among Nigerians with Tuberculosis. Bangladesh Journal of Medical Science 2018; 17(1): 21-29.