Comparative Study of Compliance with a Antihypertensive Therapy among Hypertensives in Rural and Urban General Hospitals in Lagos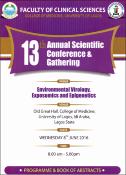 Abstract
Book of abstracts attached.
Description
To access the full text of this article, kindly contact the University Librarian- Dr. Olukemi Fadehan via the administrators: Dr. Yetunde Zaid (yzaid@unilag.edu.ng) or Dr. Christopher Okiki (cokiki@unilag.edu.ng) of the University of Lagos Library.
Keywords
Hypertension
,
Rural
,
Urban
,
Control
Citation
Akinlawo, D.O (2016) Comparative Study of Compliance with a Antihypertensive Therapy among Hypertensives in Rural and Urban General Hospitals in Lagos. 13th Annual Scientific, Conference and Gathering Held at College of Medicine, University of Lagos, Idi Araba.