Iwuala SO, Fadahunsi OO, Fasanmade OA, Ohwovoriole AE. Ankle-Brachial Index Abnormalities in Nigerian Patients with Diabetic Foot Ulceration.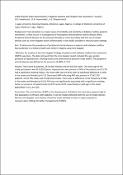 Publisher
International diabetes federation
Abstract
Background: Foot ulceration is a major cause of morbidity and mortality in diabetes mellitus patients worldwide. It often occurs in a background of neuropathy and peripheral arterial disease (PAD). Peripheral arterial disease can be assessed clinically or more accurately with the use of simple devices such as a mini-doppler which unfortunately is not readily available in resource-poor settings. Aim: To determine the prevalence of peripheral arterial disease in patients with diabetes mellitus foot syndrome in a tertiary health care centre in Nigeria using mini-doppler. Methods: An analysis of the mini-doppler findings of patients with diabetes mellitus foot syndrome (DMFS) was done. The data retrieved from the mini doppler report included the age, gender, presence of hypertension, smoking history and ankle-brachial pressure index (ABPI). Peripheral arterial disease was defined as the presence of ABPI of < 0.9. Results: There were 64 patients, 28 (43.8%) females and 36 (56.3%) males. The mean age of the study participants was 63.9 (10.9) years. Hypertension was present in 56% of the patients and 15.7% had a significant smoking history. The mean ABPI was 0.9 (0.4) with no significant difference in APBI in the males and females (p=0.12). Decreased ABPI indicating PAD was present in 27 (42.2%) patients, 14 (51.9%) males and 13 (48.1%) females. There was no difference in the frequency of PAD in the males and females (p=0.32). PAD was not significantly associated with a significant smoking history or presence of hypertension (p=0.19 and p=0.47 respectively) or with age in the study population (r=0.2, p=0.20). Conclusion: The contribution of PAD to the development of diabetic foot ulceration appears high in this population of Africans with diabetes. It can be reliably detected with the use of simple devices like the mini-doppler. Such devices should be made available at least in major hospitals in resource-poor settings for better management of DMFS.
Description
Presented at the International Diabetes Federation Congress, Montreal, Canada, 2009
Keywords
Ankle brachial index
,
Diabetes mellitus
,
Nigerians
,
Tertiary health care system
,
Research Subject Categories::SOCIAL SCIENCES
Citation
Iwuala SO, Fadahunsi OO, Fasanmade OA, Ohwovoriole AE. Ankle-Brachial Index Abnormalities in Nigerian Patients with Diabetic Foot Ulceration. Presented at the International Diabetes Federation Congress, Montreal, Canada, 2009
Collections