Correlates of knowledge of genetic diseases and congenital anomalies among pregnant women attending antenatal clinics in Lagos, South-West Nigeria.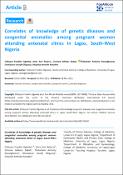 Publisher
Pan African Medical Journal
Abstract
Introduction: genetic diseases and congenital anomalies place a significant burden on the health of new-borns and their mothers. Despite the availability of a variety of prenatal screening tests, mothers' knowledge has been documented to determine uptake. This study aims to assess the knowledge of pregnant women about birth defects and the associated correlates with regard to willingness to do prenatal screening. Methods: a cross-sectional descriptive study was conducted among 422 antenatal mothers recruited sequentially as they attended antenatal clinics at the Lagos University Teaching Hospital. An interviewer-administered questionnaire was used to determine their knowledge of birth defects and willingness to do prenatal testing. Results: majority of the participants (92.2%) had at least secondary education. The mean total knowledge score of the respondents was 63%. Age and knowledge scores were not significantly correlated (r=-0.071, p=0.14). Being employed predicted higher knowledge scores (95% CI: 0.09, 2.09, p=0.03). Respondents who had primary school education and those who replied "I don't know" to willingness to test had significantly lower knowledge scores (95% CI: -15.01, -1.19, p=0.02 and 95% CI: -4.52, -0.68, p=0.01 respectively). Majority (79.1%) of the respondents were willing to undergo testing. Respondents' level of education was significantly associated with willingness to test (p=0.03). Conclusion: the observed knowledge gaps were considerable. There is need for improvement in education, the empowerment of women and access to quality healthcare including prenatal screening.
Keywords
Genetic diseases
,
Congenital anomalies
,
Pregnant women; prenatal diagnosis.
,
Prenatal diagnosis.
Citation
Ogamba CF, Roberts AA, Babah OA, Ikwuegbuenyi CA,1, Ologunja OJ, Amodeni OK. Correlates of knowledge of genetic diseases and congenital anomalies among pregnant women attending antenatal clinics in Lagos, South-West Nigeria. Pan African Medical Journal. 2021; 38(310). 10.11604/pamj.2021.38.310.26636