Utilization cost of maternity services for childbirth among pregnant women with coronavirus disease 2019 in Nigeria's epicenter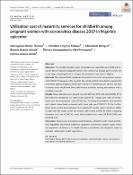 Abstract
Objective: To estimate utilization costs of spontaneous vaginal delivery (SVD) and cesarean delivery (CD) for pregnant women with coronavirus disease 2019 (COVID-19) at the largest teaching hospital in Lagos, the pandemic's epicenter in Nigeria. Methods: We collected facility-based and household costs of all nine pregnant women with COVID-19 managed at the hospital. We compared their mean facility-based costs with those paid by pregnant women pre-COVID-19, identifying cost-drivers. We also estimated what would have been paid without subsidies, testing assumptions with a sensitivity analysis. Results: Total utilization costs ranged from US $494 for SVD with mild COVID-19 to US $4553 for emergency CD with severe COVID-19. Though 32%-66% of facility-based cost were subsidized, costs of SVD and CD during the pandemic have doubled and tripled, respectively, compared with those paid pre-COVID-19. Of the facility-based costs, cost of personal protective equipment was the major cost-driver (50%). Oxygen was the major driver for women with severe COVID-19 (48%). Excluding treatment costs for COVID-19, mean facility-based costs were US $228 (SVD) and US $948 (CD). Conclusion: Despite cost exemptions and donations, utilization costs remain prohibitive. Regulation of personal protective equipment and medical oxygen supply chains and expansion of advocacy for health insurance enrollments are needed in order to minimize catastrophic health expenditure.
Keywords
Coronavirus disease 2019
,
Nigeria
,
Cost
,
economic evaluation
,
Maternal health
,
Out-of-pocket expenditure
,
Skilled birth attendance
,
Research Subject Categories::MEDICINE
Citation
Banke-Thomas A, Makwe CC, Balogun M, Afolabi BB, Alex-Nwangwu TA, Ameh CA. Utilization cost of maternity services for childbirth among pregnant women with coronavirus disease 2019 in Nigeria's epicenter. Int J Gynaecol Obstet. 2021 Feb;152(2):242-248. doi: 10.1002/ijgo.13436. Epub 2020 Nov 26. PubMed PMID: 33098673.