Knowledge, attitude and practice of cervical cancer prevention, among women residing in an urban slum in Lagos, South West, Nigeria.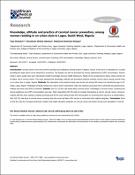 Publisher
The Pan African Medical Journal
Abstract
Introduction: cervical cancer is the most common genital tract malignancy among women in Nigeria. Cancer of the cervix is preceded by a curable premalignant stage which can be detected by screening. The disease can also be prevented by Human papillomavirus (HPV) immunization. Women living in slums usually have poor reproductive health knowledge and poor health behaviours. Mostly of low socioeconomic status, these women are at higher risk of cervical cancer. This study assessed the knowledge, attitude and preventive practices towards cervical cancer among women living in an urban slum in Lagos, Nigeria. Methods: this descriptive cross-sectional study was carried out among 305 women of reproductive age in Idi- Araba, Lagos, Nigeria. Multistage sampling method was used to select respondents. Data was collected using interviewer administered questionnaires. Analysis was done with SPSS 20 software. Results: only 39 (12.8%) had heard about cervical cancer. Knowledge of cervical cancer, screening and Human papilloma virus (HPV) immunization was poor. Most respondents (64.3%) did not consider themselves at risk for cervical cancer. However, majority (88.9%) were willing to undergo screening and 93.8% were willing to take HPV immunization or recommend the vaccine to a friend/relative. Only 2(0.7%) had done a cervical cancer screening test and none had taken HPV vaccine or immunized their eligible daughters. Conclusion: there is thus the need for increased awareness creation and health education programs on cervical cancer prevention among such population of women.
Keywords
Cervical cancer
,
Slum
,
HPV immunization
,
Cervical cancer screening
,
Research Subject Categories::MEDICINE::Social medicine
Citation
Olubodun T, Odukoya OO, Balogun MR. Knowledge, attitude and practice of cervical cancer prevention, among women residing in an urban slum in Lagos, South West, Nigeria. The Pan African Medical Journal 2019; 32:130. doi:10.11604/pamj.2019.32.130.14432