PLANNING FLEXIBILITY AND PERFORMANCE OF SELECTED SMALL AND MEDIUM ENTERPRISES (SMES) IN LAGOS, NIGERIA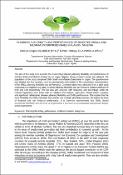 Abstract
The aim of this study is to examine the relationship between planning flexibility and performance of selected Small and Medium Enterprises in Lagos, Nigeria. The survey research design was adopted. The population of the study comprised 3864 Small and Medium Enterprises in Lagos. The questionnaire was divided into four sections, covering demographic information of the respondents, characteristics of the SMEs, planning flexibility and performance. Cronbach alpha was calculated from a pilot study conducted in a neighbouring state, in which planning flexibility and performance yielded coefficient of 0.88 and 0.89 respectively. The bio-data was analysed with frequency and percentage, while the relevant hypotheses were tested with correlations and multiple regressions. The result shows a positive and significant relationship between planning flexibility and SMEs performance. This implies that the more flexibility the SMEs operators incorporate into strategic planning practices, the higher the level of financial and non-financial performance. It is therefore recommended that SMEs should incorporate flexibility into all areas of the organisation's processes to accommodate unexpected changes in the environment.
Keywords
Research Subject Categories::SOCIAL SCIENCES::Business and economics::Business studies
,
Planning flexibility
,
performance
,
small and medium enterprises
Citation
OLADELE, P. O., & OLAYIWOLA, P. O. (2018). PLANNING FLEXIBILITY AND PERFORMANCE OF SELECTED SMALL AND MEDIUM ENTERPRISES (SMES) IN LAGOS, NIGERIA. FOUNTAIN UNIVERSITY OSOGBO JOURNAL OF MANAGEMENT, 3(2).