Promoting cervical cancer prevention: what do female high school teachers in Surulere Lagos know, think and practice?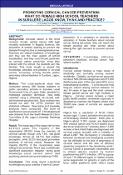 Publisher
Annals of Clinical Sciences
Abstract
Background: Cervical cancer is the most common female genital cancer with high mortality worldwide. In Nigeria however, the proportion of women seeking to prevent the disease through routine screening remains low. Teachers are critical mediators of knowledge and they are the main agents of school socialization, and they could impact positively on cervical cancer prevention since they interact with the school, the students and the families. This study sought to assess the knowledge, attitudes, and practice of cervical cancer screening among female public secondary school teachers in Surulere, Lagos, Nigeria. Method: This cross-sectional study was conducted among 289 female teachers in public secondary schools in Surulere Local Government Area of Lagos State, selected by multistage sampling technique. Data were collected using a pretested, structured, self-administered questionnaire. Data analysis was carried out with the SPSS (version 22) statistical software. Descriptive and bivariate analyses were conducted. The level of significance was set at p≤0.05. Ethical approval was obtained from the Health Research Ethics Committee of the Lagos University Teaching Hospital. Result: The mean age of the respondents was 42.9+9.2 years. The majority of the respondents (86.0%) knew the meaning of cervical cancer, though only 7.6% had good knowledge. Almost all (94.1%) had positive perception, while 32.5% had good preventive practices of cervical cancer. However, the majority (92.0%) of the respondents were willing to be screened. There was a statistically significant association between having good knowledge about cervical cancer and practicing cervical cancer prevention (p=0.05). Conclusion: This study found suboptimal knowledge and poor practice of cervical cancer prevention. It is necessary to intensify the education of female teachers about cervical cancer. Being educators, they can teach the female students and other women about making the right decision to prevent cervical cancer.
Keywords
Attitudes
,
Cervical cancer
,
High school teachers
,
Knowledge
,
Preventive practices
,
Research Subject Categories::MEDICINE
Citation
Oluwole EO, Onubogu UC, Kanma-Okafor OJ, Balogun MR. Promoting cervical cancer prevention: what do female high school teachers in Surulere Lagos know, think and practice? Annals of Clinical Sciences 2020; 5(1-2): 13-21.