Impact of using ehealth tools to extend health services to rural areas of Nigeria: protocol for a mixed-method, non-randomised cluster trial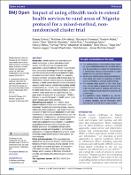 Abstract
Introduction : eHealth solutions that use internet and related technologies to deliver and enhance health services and information are emerging as novel approaches to support healthcare delivery in sub-Saharan Africa. Using digital technology in this way can support cost-effectiveness of care delivery and extend the reach of services to remote locations. Despite the burgeoning literature on eHealth approaches, little is known about the effectiveness of eHealth tools for improving the quality and efficiency of health systems functions or client outcomes in resource-limited countries. eHealth tools including satellite communications are currently being implemented at scale, to extend health services to rural areas of Nigeria, in Ondo and Kano States and the Federal Capital Territory. This paper shares the protocol for a 2-year project ('EXTEND') that aims to evaluate the impact of eHealth tools on health system functions and health outcomes. Methodology and analysis: This multisite, mixedmethod evaluation includes a non-randomised, cluster trial design. The study comprises three phases—baseline, midline and endline evaluations—that involve: (1) process evaluation of video training and digitisation of health data interventions; (2) evaluation of contextual influences on the implementation of interventions; and (3) impact evaluation of results of the project. A convergent mixed-method model will be adopted to allow integration of quantitative and qualitative findings to achieve study objectives. Multiple quantitative and qualitative datasets will be repeatedly analysed and triangulated to facilitate better understanding of impact of eHealth tools on health worker knowledge, quality and efficiency of health systems and client outcomes. Ethics and dissemination: Ethics approvals were obtained from the University of Leeds and three States' Ministries of Health in Nigeria. All data collected for this study will be anonymised and reports will not contain information that could identify respondents. Study findings will be presented to Ministries of Health at scientific conferences and published in peer-reviewed journals. Trial registration number ISRCTN32105372; Preresults
Keywords
Impact of using eHealth tools to extend health services to rural areas of Nigeria
,
Health services
,
Digital technology
,
Health systems
,
Satellite communcations
,
Research Subject Categories::MEDICINE::Surgery::Obstetrics and women's diseases::Obstetrics and gynaecology
Citation
Ebenso B, Allsop MJ, Okusanya B, Akaba G, Tucker J,Okunade K, et al. Impact of using ehealth tools to extend health services to rural areas of Nigeria: protocol for a mixed-method, non-randomised cluster trial. BMJ Open 2018; 8(10):e022174. . doi: 10.1136/bmjopen-2018-022174.