Factors determining sanitation information‑seeking behavior: A literature review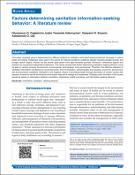 Publisher
Wolters Kluwer Medknow Publications
Abstract
This paper reviewed various assessments by different authors on sanitation information‑seeking behavior of people in various areas and setting. Databases were used in the search for relevant academic published articles including Google Scholar and Google search engine. Articles for the review were drawn from peer‑reviewed journals. Moreover, conference papers and research by recognized independent institutions. This review showed that factors determining sanitation‑seeking behavior could be seen in various contexts: Economical, environmental, technological, and psychosocial. Therefore, the effective utilization of sanitation information will depend on social structures, level of education, cultural beliefs and practices, economic, government, and environmental conditions. Sanitation is the hygienic means of promoting health through prevention of human contact with hazards of waste as well as the treatment and proper disposal of sewage and wastewater. Strategic policy formation in the society should be based on information relating to sanitation, cleanliness, health promoting, and information‑seeking behavior.
Keywords
Information, sanitation, seeking behavior
,
Information
Citation
Fagbemiro OO, Ademuyiwa IY, Soyemi OD, Ojo AO. Factors determining sanitation information-seeking behavior: A literature review. Trop J Med Res 2016;19:81-7.
Collections