TRANSNATIONAL PENTECOSTALISM IN AFRICA: THE REDEEMED CHRISTIAN CHURCH OF GOD, NIGERIA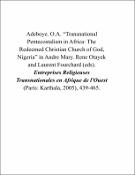 Abstract
In the past two decades, Nigeria has been a hotbed of Pentecostal activity in Africa. And within Nigeria, the Redeemed Christian Church of God (hereafter called RCCG) has been at the forefront of the Pentecostal campaign. Pentecostalism is a very vibrant form of Christianity with its roots in the experience of Pentecost in the Upper Room as recorded in the Bible (Acts 2:4) and re-enacted in various awakenings in the history of Christianity, which included the eighteenth and nineteenth-century revivals in the Anglo-Saxon world and the early twentieth-century Azusa revivals in Los Angeles. These experiences were later diffused to other parts of the world through an increase in missionary activity.
Keywords
Pentecostalism
,
Africa
,
Christianity
,
Redeemed Christian Church
,
Research Subject Categories::HUMANITIES and RELIGION::History and philosophy subjects
Citation
Adeboye, O.A. (2005). "Transnational Pentecostalism in Africa: The Redeemed Christian Church of God, Nigeria" In Andre Mary, Rene Otayek and Laurent Fourchard (eds.), Entreprises Religieuses Transnationales en Afrique de l'Ouest Paris: Karthala, 439-465.