Ejigbo Palace Organisation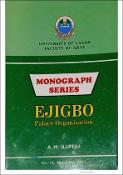 Publisher
Faculty of Arts, University of Lagos
Abstract
Ejigbo town, popularly known as « French City in Nigeria », is the headquarters of Ejigbo Local Government in Osun North-West Division, of Oyo State. According to 1963 census, Ejibgo town has a population of 46,410. The population of the town has been drastically affected by continuous migration of Ejigbo people to some neighboring West African countries, notably, Ivory Coast, Togo, Ghana, Benin Republic, Niger Republic, Burkina Faso and Liberia. Out of about one million and two hundred thousand Nigerians residing in Ivory Coast since the 30s till present, indigenes of Ejigbo local Government area make up of more than 50% of that population. This migration has merits and demerits. The major demerits are drastic reduction in the revenue returns of the town and political disadvantages in creation of both state and National constituencies in the town. The attendant positive effects are epitomized largely in the rate of development in terms of modern and beautiful buildings springing up at geometrical progression. Similarly, the presence of French oriented Bakery, popularly referred to as "Oba Abidjan Bakery" meaning – "the king of Abidjan (capital of Ivory Coast) Bakery"; is a witness to the town's claim to francophone influence. Above all, it has aided immensely the growth of civilization and contributed in no small measure to the social, educational and economic life of the town. Some of the foreign languages spoken today in Ejigbo include, French, Dioula (Mali) Eve (Togo) Asante (Ghana). Every year, one main traditional festival brings home Ejigbo indigenes in Diaspora : the Ifa Oracle"Wake-keep"; a procession to worship at Ogiyan Shrine and the traditional Warfare – "Ewo". The history of the settlement of the people and the kingship traditions are what readers are exposed to in this write-up.
Keywords
Ejigbo-town,
,
« French City in Nigeria »
,
indigenes-of-Ejigbo
,
migration-of-Ejigbo
,
"Wake-keep"
,
traditional Warfare
,
Research Subject Categories::HUMANITIES and RELIGION::Languages and linguistics
Citation
IlupejIlupeju, A. M. (2011) : Ejigbo Palace Organisation, Faculty of Arts, University of Lagos, Monograph Series N°14, Lagos. 70 pages.