Sacrifice sur l'autel de l'attachement familial: une lecturede pris au piege d' Abdoul-Hamed Tangah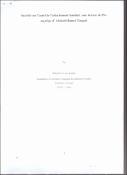 Abstract
Pris all piege dAbdoul= Harried Tangah. un roman autobiographique par apparence. relate le parcours vicieux de la vie d\1I1 jeune hornrne depuis son village natal de Kernon ju-qua Cotonou, la ville ou il a ere reellernent pris au piege a travel'S les \ icissitudcs de la \ ic. Cc recit ernouvant de la vie dI nnocent et narre a la prern iere personne de la perspect i\ c narrat i\ e. nou-, inspire de la theorie de l'Autobiographie. Ainsi. pour asseoir les bases de notre analyse. nous nous sommes inspires des caracteristiques de cette theorie mis sur pied pour la premiere fois par Georges Gusdorf. La definition s) sternique de l'Autobiographie de ce dernier I'a conduit a une redefinition tridimensionnelle du terrne « autobiographie » qui se decoupe en lauto Ilbio //graphie. De cette theorie ressort une anal) se cxplicitc rnais succinctc sur ' lc moi. cc-r-n-dirc la connaissance de soi-rnerne. la realisation de soi. les aspiration" et le,>contour- de Id \ le dun individu ecrits par lui-merne. Cette etude vise tout dabord Etelaborer le parcours de la \ ie dlnnocent, le personnage principal du roman. dans son village natal de Kernon. ses aspirations. les vicissitudes de sa vie a Cotonou et finalernent son retour au bercail. On rernarque a travel's notre analyse que le recit cyclique de la vie dInnocent a ete une vraie mise en abyrne de la technique rornanesque emprunre par laureur dans la redaction de son roman.
Keywords
Roman autobiographique
,
Jeune homme
,
Roman
,
Research Subject Categories::HUMANITIES and RELIGION::Languages and linguistics
Citation
Balogun, L.I. (2019). Sacrifice sur l'autel de l'attachement familial: une lecturede pris au piege d' Abdoul-Hamed Tangah.