Knowledge and Use of Nursing Informatics among Nurses in a University Teaching Hospital in Lagos, Nigeria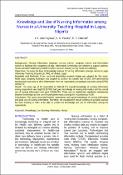 Publisher
American Research Institute for policy Development
Abstract
Background: Nursing Informatics integrates nursing science, computer science and information science to facilitate the integration of data, information, knowledge and wisdom to support patients, nurses and other healthcare providers in their decision-making during health care delivery. Objectives: To assess the level of knowledge and use of nursing informatics amongst nurses in Lagos University Teaching Hospital (LUTH), Idi-Araba, Lagos. Materials and Methods: Cross- sectional descriptive research design was adopted for this study. Multi stage sampling technique was adopted to achieve the sample size of 162. Self-administered questionnaire was used to elicit information from the respondents and analysis was done using (SPSS) version 22. Result: The mean age of the respondent is 35±0.48.The overall knowledge of nursing Informatics among respondents was high121.5(75%) had good knowledge of nursing informatics and the overall use of nursing informatics was good 157(99.4%). There was no statistically significant relationship between knowledge and the use of nursing informatics among the respondents p >0.05. Conclusion: The study concluded that the respondents had a good knowledge of nursing informatics and good use of nursing informatics. Therefore, the management should continue to provide avenues for more training in order to be able to sustain the knowledge and use of informatics among the respondents.
Keywords
Knowledge, Use, Nursing Informatics, Nurses
Citation
Ademuyiwa IY, Faleke SO, Otetubi EE. Knowledge and use of nursing informatics among nurses in a university teaching hospital in Lagos, Nigeria. Int J Health Sci Res. 2020; 10(12):63-69.
Collections