Knowledge of SCD and psychosocial burden experienced by caregivers of children with SCD at a secondary level hospital in Lagos, Nigeria – a cross sectional study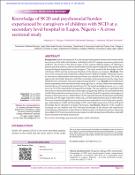 Publisher
Journal of Clinical Sciences
Abstract
Background: Sickle cell anemia (SCA) is the most prevalent genetic disease in the world and the most severe of the sickle cell disorders. Individuals with SCA undergo numerous psychosocial problems. The severity of the clinical status of SCA imposes differing degrees of suffering to patients and their relatives, and the overall health of these patients depends on the quality of life and psychological preparedness of the caregivers. This study assessed the knowledge of sickle cell disease (SCD) and the psychosocial burdens of the disease on caregivers. Methods: This was a cross‑sectional study conducted at Massey Street Children Hospital. Following consent, an interviewer‑administered structured pro forma was utilized for the survey. The study was approved by the Health, Research, and Ethics Committee with permission from the Lagos State Health Service Commission. Data were analyzed using Epi Info™ 7.140. Results: Two hundred and sixteen respondents were interviewed with a mean age of 37.7   7.8 years. Most of the respondents were female (90.7%) and presently married (90.7%). The mean knowledge score was 7.5   2.1, with most (74.1%) of the respondents having good knowledge. The vast majority of respondents had lost income or financial benefits due to time spent caring for the child (91.2%) and reported that a child's illness disturbs activities at home (77.3%). Almost all (96.8%) reported an atmosphere of tension in the homes due to a child's illness, 80.6% reported episodes of depression and feeling sorrowful, 34% felt angry with self or child, and 14.3% felt stigmatized because of child's illness. There was a statistically significant association between respondents' level of education, gender, age, relationship to a child, and knowledge of SCD, and a higher proportion of those with good knowledge had no disruption of family interactions. Conclusion: Majority of the caregivers accessing care for children with SCD had good knowledge of the disease and experienced varied degrees of disruption in their finances, family routine, and family interaction. Improving knowledge of SCD is recommended among caregivers to alleviate psychosocial burdens, especially those associated with family interactions.
Keywords
Sickle Cell Disease
,
Psychosocial burden
,
Knowledge
,
Patients
,
Research Subject Categories::MEDICINE
Citation
Fetuga AA, Balogun MR, Akinsete AM. Knowledge of SCD and psychosocial burden experienced by caregivers of children with SCD at a secondary level hospital in Lagos, Nigeria – a cross sectional study. J Clin Sci 2020; 17: 113-9.