Latent Autoimmune Diabetes Mellitus in Adults (LADA) and it's characteristics in a subset of Nigerians initially managed for type 2 diabetes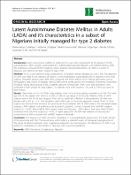 Files
Abstract
INTRODUCTION: Latent autoimmune diabetes in adults (LADA) is an entity characterized by the presence of GAD autoantibodies. LADA is largely understudied and underreported amongst Nigerians with Diabetes Mellitus (DM). We undertook to document the Prevalence, clinical and biochemical characteristics of LADA in a subset of Nigerians who hitherto had been treated for type 2 DM. METHODS: This is a cross-sectional study conducted on 235 patients being managed for type 2 DM. The diagnosis of LADA was made in the presence of Glutamic Acid Decarboxylase autoantibody (GADA) positivity in the study subjects. Thereafter persons with LADA were compared with those without LADA. Clinical parameters such as demographic data, history of diabetes mellitus (DM) and its complications were obtained, biochemical parameters including Fasting blood glucose (FBG), C-peptide, glycated haemoglobin (HbA1c) and lipid parameters were compared in both groups of Study subject. Test statistics used were Student t- test and χ 2. SPSS was used for data analysis. RESULTS: Thirty three out of 235 of the Study subjects were GADA positive, giving a prevalence of 14%. The mean age (SD) of the subjects with LADA is 53.24(7.22) with an age range of 30-63 years. Majority (48%) of LADA subjects were in the 50-59 age category. There was no significant difference in the proportion of males and females with LADA (p = 0.3). 37% of patients with LADA were on insulin for glycaemic control. Three (3) LADA subjects had history/clinical evidence of autoimmune thyroid disease. 66% of LADA were in the overweight/obese category. LADA subjects had significant poor long term glycaemic control compared with anti-GAD negative subjects (p = 0.026). About half of LADA subjects were insulinopaenic. LADA subjects had lower levels of total cholesterol than GADA-ve subjects (p = 0.03). A higher proportion of LADA had evidence of microvascular complications of DM compared with antiGAD negative individuals. CONCLUSION: The diagnosis of LADA should be entertained in overweight/obese persons from the fourth decade of life presenting with DM. Pharmacotherapy with insulin is a potential means of managing hyperglycaemia in this group of patients especially since a significant proportion are insulinopaenic. The Prevalence of LADA in our patients is comparable to what obtains in Ghanaian and Caucasian populations.
Keywords
Latent autoimmune diabetes
,
Adults
,
autoantibodies
,
Nigerians
,
Research Subject Categories::MEDICINE
Citation
Adeleye OO, Ogbera AO, Fasanmade O, Ogunleye OO, Dada AO, Ale AO, Abatan FM. Latent Autoimmune Diabetes Mellitus in Adults (LADA) and it's characteristics in a subset of Nigerians initially managed for type 2 diabetes. Int Arch Med. 2012 Aug 15;5(1):23. doi: 10.1186/1755-7682-5-23.
Collections