Knowledge, attitude and practice of breastfeeding: a comparative study of mothers in urban and rural communities of Lagos, Southwest Nigeria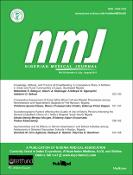 Abstract
Background: Breastfeeding is a child survival intervention, which is effective in reducing child mortality. This study compared the knowledge, attitude, and practice of breastfeeding among mothers of under‑five children in rural and urban communities of Lagos, Southwest Nigeria. Methods: This comparative cross‑sectional study was conducted in Ikeja and Ikorodu, an urban and a rural local government area (LGA) of Lagos state, respectively. A total of 248 mothers of children under 5 years were selected from both areas using multistage sampling technique and subsequently interviewed. Data were analyzed using the Statistical Package for the Social Sciences version 20. Chi‑squared test was used for urban and rural comparisons. Results: The respondents with good level of knowledge of breastfeeding in the urban and rural areas were 84.7% and 89.5%, respectively (P = 0.256). The overall positive attitude was 52.4% and 57.3% among the urban and rural respondents, respectively (P = 0.444). More than three‑quarters (75.8%) of the respondents in the rural LGA and 43.5% of the urban respondents initiated breastfeeding immediately after birth (P < 0.001). Most of the rural respondents who had babies aged 0–24 months (46.8%) were currently breastfeeding their babies compared to 25.9% of their urban counterparts (P = 0.001). Furthermore, 79.8% of the rural respondents had practiced or were currently practicing exclusive breastfeeding (EBF) compared to 29.0% of the urban respondents (P < 0.001), with more urban women citing work resumption as reason for nonpractice of EBF (P = 0.010). The overall good practice was 16.1% and 69.4% among the urban and rural respondents, respectively (P < 0.001). Conclusion: Respondents' knowledge about breastfeeding was good, while their attitude was fair. The practice of breastfeeding among urban respondents was however low. Government and nongovernmental agencies should focus on programs that improve the attitude and breastfeeding practice of urban women.
Keywords
Breastfeeding
,
Lagos
,
Practice
,
Research Subject Categories::MEDICINE
Citation
Balogun MR, Okpalugo OA, Ogunyemi AO, Sekoni AO. Knowledge, attitude and practice of breastfeeding: a comparative study of mothers in urban and rural communities of Lagos, Southwest Nigeria. Nigerian Medical Journal 2017; 58(4): 123-130.