The Challenges of Anti-Corruption Crusade in Nigeria Beyond 2007.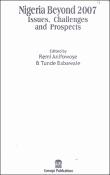 Publisher
Concept Publications Limited 77, Shipeolu Street, Palmgrove,Lagos.
Abstract
There is no doubt that the anti-corruption crusade of the present federal government since 1999 has recorded some commendable breakthroughs which are attributable to the patriotic efforts of some agencies and their dynamic leaders. Thus the Economic and Financial Crimes Commission (EFCC) and the Independent Corrupt Practices Commission (JCPC) and the National Agency for Food and Drug Administration and Control (NAFDAC) have made some historic impact. "Yet corruption still thrives in the body politic. So far it is the Federal Government through the singular initiative of the President that has consistently confronted political and administrative corruption in the public sector. It is hoped that after 2007, some noticeable lapses in the constitutional and legal provisions for the functions of the agencies will be ameliorated. The chapter gives a full definition of political and administrative corruption and suggests some strategies for decentralizing the above mentioned agencies so that their impacts are noticeable not only at the federal, but also at state and local government levels. All state governors, federal ministers, state commissioners and local government chairman and councilors should actively be involved in anti-corruption crusade, reforms and accountability. As at now there is evident reform only at the federal level but there is inadequate accountability. An incoming federal government in2007 should introduce a new legislation to enforce full-scale and day-to-day.
Keywords
Federal Government
,
Corruption
Citation
Lawal,A.A. (2007) The Challenges of Anti-Corruption Crusade in Nigeria Beyond 2007. Nigeria Beyond 2007 Issues, Challenges and Prospects Section III, p. 189 - 208.