Knowledge, attitude and practice of antibiotic use among residents of a community in South-West Nigeria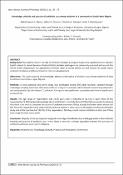 Publisher
West African Journal of Pharmacy
Abstract
Background: The rapid increase in the rate of antibiotic-resistant pathogens hasbecome a global concern of public health interest in recent decades. Most antibiotic-resistant pathogens are community-acquired and as such the World Health Organization has appealed to member states to create policies on and educate the public about antibiotic resistance and the community's role in its development. Objectives: This study assessed the knowledge, attitude and practice of antibiotic use among residents of Ikeja Local Government Area, Lagos, Nigeria. Methods: A cross-sectional descriptive study was conducted among 306 adult residents selected through multistage sampling technique. Data were collected using an interviewer-administered structured questionnaire and analyzed with Epi info version 7.1 software. Chi-square was used to test association with level of significance set at p≤0.05. Results: The age range of respondents was 18-78 years with a mean±Sd of 32.7+11.4 years Most of the respondents (71.2%) had good knowledge about antibioticsin this study.About 29.0% of the respondents believed that there is no need to complete the course of antibiotic treatment if they already feel better while almost half (46.7%) of the respondents had used antibiotic without a doctor's prescription in the twelve months preceding the study and a little less than half (42.8%) of the respondents felt they should start an antibiotic on their own if they have cough for more than a week. Conclusion: Majority of the participants had good knowledge of antibiotics but a wide gap exists in their attitude towards and practice of antibiotic use. Hence, there is need for a stricter regulation towards the purchase of antibiotics without a prescription in Nigeria.
Keywords
Antibiotic Use
,
Knowledge
,
Practice
,
Self-Medication
,
Community
,
Research Subject Categories::MEDICINE::Social medicine
Citation
Abdulhakeem O. Abiola, Esther O. Oluwole, Omotola A. Oredipe, Aisha T. Abdulkareem. Knowledge, attitude and practice of antibiotic use among residents of a community in South-West Nigeria. West African Journal of Pharmacy 2020; 31 (1): 61 – 72.