High-risk of obstructive sleep apnea and excessive daytime sleepiness among commercial intra-city drivers in Lagos metropolis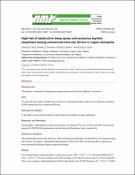 Abstract
BACKGROUND: The burden of obstructive sleep apnea among commercial drivers in Nigeria is not known. AIM: To assess the prevalence of high risk of obstructive sleep apnea (OSA) and excessive daytime sleepiness (EDS) among intra-city commercial drivers. SETTING AND DESIGN: A descriptive cross-sectional study in three major motor parks in Lagos metropolis. MATERIALS AND METHODS: Demographic, anthropometric and historical data was obtained. The risk of OSA and EDS was assessed using the STOP BANG questionnaire and the Epworth Sleepiness Scale, respectively. STATISTICAL ANALYSIS: The relationship between the OSA risk, EDS risk and past road traffic accident (RTA) was explored using the Pearson's chi square. Independent determinants of OSA risk, EDS risk and past RTA, respectively, were assessed by multiple logistic regression models. RESULT: Five hundred male commercial drivers (mean age (years) ±SD = 42.36 ± 11.17 and mean BMI (kg/m(2)) ±SD = 25.68 ± 3.79) were recruited. OSA risk was high in 244 (48.8%) drivers and 72 (14.4%) had EDS. There was a positive relationship between OSA risk and the risk of EDS (Pearson's X(2) = 28.2, P < 0.001). Sixty-one (12.2%) drivers had a past history of RTA but there was no significant relationship between a past RTA and either OSA risk (X(2) = 2.05, P = 0.15) or EDS risk (X(2) = 2.7, P = 0.1), respectively. Abdominal adiposity, regular alcohol use and EDS were independent determinants of OSA risk while the use of cannabis and OSA risk were independent determinants of EDS. No independent risk factor for past RTA was identified. CONCLUSION: A significant proportion of commercial drivers in Lagos metropolis are at high risk of OSA and EDS
Keywords
Commercial drivers
,
Lagos
,
Excessive daytime sleepiness
,
Obstructive sleep apnea
,
Nigeria
,
Research Subject Categories::MEDICINE::Dermatology and venerology,clinical genetics, internal medicine::Internal medicine::Neurology
Citation
Ozoh OB, Okubadejo NU, Akanbi MO, Dania MG. High-risk of obstructive sleep apnea and excessive daytime sleepiness among commercial intra-city drivers in Lagos metropolis. Niger Med J. 2013 Jul;54(4):224-9.
Collections