Knowledge and Acceptability of Human Papillomavirus Vaccination among Women Attending the Gynaecological Outpatient Clinics of a University Teaching Hospital in Lagos, Nigeria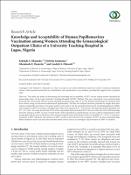 Abstract
Objectives. This study was aimed at determining the knowledge and acceptability of HPV vaccine among women attending the gynaecology clinics of the Lagos University Teaching Hospital (LUTH). Methods. This was a descriptive cross-sectional study involving 148 consecutively selected women attending the gynaecology clinic of LUTH. Relevant information was obtained from these women using an interviewer-administered questionnaire. The data was analysed and then presented by simple descriptive statistics using tables and charts. Chi-square statistics were used to test the association between the sociodemographical variables and acceptance of HPV vaccination. All significance values were reported at 𝑃 < 0.05. Results. The mean age of the respondents was 35.7 ± 9.7 years. The study showed that 36.5% of the respondents had heard about HPV infection while only 18.9% had knowledge about the existence of HPV vaccines. Overall, 81.8% of the respondents accepted that the vaccines could be administered to their teenage girls with the level of education of the mothers being the major determinant of their acceptability (𝑃 = 0.013). Conclusions. Awareness of HPV infections and existence of HPV vaccines is low. However, the acceptance of HPV vaccines is generally high. Efforts should be made to increase the awareness about cervical cancer, its aetiologies, and prevention via HPV vaccination.
Keywords
Lagos University Teaching Hospital (LUTH)
,
HPV vaccine
,
Women
,
Awareness of HPV infections
,
Research Subject Categories::MEDICINE::Surgery::Obstetrics and women's diseases
Citation
Okunade KS, Sunmonu O, Osanyin GE, Oluwole AA. Knowledge and Acceptability of Human Papillomavirus Vaccination among Women Attending the Gynaecological Outpatient Clinics of a University Teaching Hospital in Lagos, Nigeria. Journal of Tropical Medicine. 2017; 2017: 8586459.