Extremity Soft Tissue Sarcoma: A Review of 19 Cases.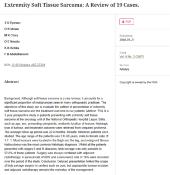 Publisher
Nigerian Journal of Orthopaedics and Trauma
Abstract
Background: Although soft tissue sarcoma is a rare tumour, it accounts for a significant proportion of malignancies seen in many orthopaedic practices. The objectives of this study are to evaluate the pattern of presentation of extremity soft tissue sarcoma and the treatment outcome in our patients. Method: This is a 3 year prospective study in patients presenting with extremity soft tissue sarcoma at the oncology unit of the National Orthopedic Hospital Lagos. Data, such as age, sex, presenting complaints, anatomic location of lesions, histologic type of tumour, and treatment outcome were retrieved from prepared proforma. The average follow up period was 22.8 months. Results: Nineteen patients were studied. The age range of the patients was 3 to 69 years, male to female ratio of 1.7: 1. Most tumours were located in the thigh and the leg, and malignant fibrous histiocytoma was the most common histologic diagnosis. Whilst all the patients presented with stages II and III diseases, limb salvage was only possible in 52.6% of these patients. Surgery was always combined with adjuvant radiotherapy. A survival rate of 69% and a recurrence rate of 16% were recorded over the period of the study. Conclusion: Delayed presentation limited the scope of limb salvage surgery in centers such as ours, but appropriate tumour excision and adjuvant radiotherapy remains the mainstay of the management.
Citation
Nigerian Journal of Orthopaedics and Trauma Vol. 6 (2) 2007: pp. 77-79