" Le programme d'études françaises à l'école secondaire au Nigeria : les points de vue des enseignants et étudiants "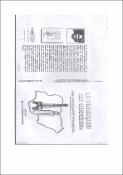 Abstract
Using a pragmatic approach of research including questionnaires and a careful survey of schools in Lagos and Osun States, this chapter established the facts that a number of issues affect the poor quality of French taught and learnt in Nigerian schools. Some of these short comings are: the poor quality and the uncoordinated variety of textbooks on French used, the poor quality of teaching as a result of the poor quality of untrained French teachers and the lack of attention to and ignorance (in most schools) of the SSCE French syllabus. Suggestions were proffered to remedy the deficiencies.
Keywords
quality-of-French, textbooks, SSCE-French-syllabus, deficiencies, quality-of-teaching
Citation
" Le programme d'études françaises à l'école secondaire au Nigeria : les points de vue des enseignants et étudiants ", in J. T. Asobele: Le français au Nigeria : une cartographie dynamique, Lagos, Pintview, pp 50- 62.