AFRICA AND INTERNATIONAL POLITICS OF HIV/AIDS: CONTEMPORARY ISSUES IN AFRICA'S DEVELOPMENT: WHITHER THE AFRICAN RENAISSANCE?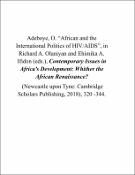 Publisher
Newcastle upon Tyne: Cambridge Scholars Publishing
Abstract
In June 2011, the Joint United Nations Programme on HIV/AIDs (UNAIDS) marked 30 years of the epidemic with the publication of a 139-page document titled "AIDs at 30: Nations at the Crossroads in which it outlined the strategies utilized to fight the epidemic, the progress made so far, and the challenges faced by the body. What comes out of every page of the document is the message that HIV/AIDs is a global challenge which requires an equally global and collaborative response.
Keywords
Africa
,
International Politics
,
HIV/AIDS
,
International response
,
Research Subject Categories::HUMANITIES and RELIGION::History and philosophy subjects
Citation
Adeboye, O. A. (2018). "Africa and the International Politics of HIV/AIDS" in Richard A. Olaniyan and Ehimika A. Ifidon (eds.), Contemporary Issues in Africa's Development: Whither the African Renaissance?, Newcastle upon Tyne: Cambridge Scholars Publishing, 320-344.