Fluconazole susceptibility and erg11 gene expression in vaginal candida species isolated from lagos nigeria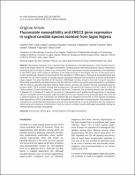 Abstract
Fluconazole resistance is an important type of resistance in Candida because in most countries, fluconazole is the drug of choice for vulvovaginal candidiasis. Candida species resist fluconazole by various mechanisms but there is paucity of data on these in our environment. Such mechanisms include among others, over-expression of the ERG11 gene, which codes for synthesis of the target enzymes in the fungus. The aim of this study was to screen Candida spp. resistant to fluconazole for the expression of ERG11 gene. Fluconazole susceptibility test was performed on 28 clinical strains of Candida species previously obtained from students of a School of Nursing in Lagos, Nigeria. They were identified by API Candida, CHROMagar candida and germ tube test. Using 25 mcg discs, fluconazole susceptibility was determined by the disc diffusion method and results were interpreted in accordance with the Clinical Laboratory Standard Institute (CLSI) criteria; sensitive (S), resistant (R) and susceptible dose dependent (SDD). The R and SDD isolates were subsequently evaluated for the presence of ERG11 gene. Of the 28 clinical isolates, 14 were identified as C. albicans and six as C. tropicalis. The remaining isolates were identified as C. glabrata (2), C. famata (2) C. kefyr (2) one each of C. parapsilosis and C. guilliermondii respectively. In this study, 18 were susceptible (S) to fluconazole, eight were SDD and two were resistant to the antifungal agent. Out of the 14 C. albicans isolates, 12 were susceptible, one showed high level resistance and similar number showed susceptible dose dependence. ERG11 was detected in three susceptible dose dependent Candida species. This analysis demonstrates that susceptible dose dependence should not be overlooked as it may be associated with the presence of ERG11 gene and resistance to fluconazole. There is a need to consider routine antifungal susceptibility testing for Candida species causing vulvovaginitis.
Keywords
Fluconazole
,
Erg11 gene
,
Candida species
,
Antifungal susceptibility
Citation
Pam, V.K, Akpan, J.U, Oduyebo, O.O, Nwaokorie, F.O, Fowora, M.A, Oladele, R.O, Ogunsola, F.T. and Smith, S.I. (2012). Fluconazole Susceptibility and Erg11 Gene Expression In Vaginal Candida species. Int J Mol Epidemiol Genet, 3(1): 84–90.