Proximate Composition Properties of Different Fish Species Obtained from Lagos, Nigeria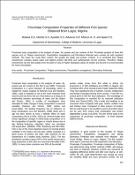 Abstract
Proximate body composition is the analysis of water, fat, protein and ash contents of fish. Proximate analysis of three fish species such as Tilapia oreochromis, Pseudolithus senegalensis and Ethmalosa fimbrata were carried out with standard methods. The lower the crude fibre content, the greater the lipids and protein contents. It is concluded that Tilapia oreochromis contains lowest water and highest protein (38.19%) and carbohydrate (10.41) contents. Therefore Tilapia oreochromis has the best quality from the point of view of higher biological values of protein and fat and it is recommended for most consumption.
Keywords
Research Subject Categories::NATURAL SCIENCES::Chemistry::Biochemistry
,
Proximate Composition
,
Tilapia oreochromis
,
Pseudolithus senegalensis
,
Ethmalosa fimbriata
Citation
Bolawa O.E, Gbenle G.O, Ayodele S.O, Adewusi O.R, Mosuro A. O. and Apata O.S. (2011). Proximate Composition Properties of Different Fish Species Obtained from Lagos, Nigeria. Internet Journal of Food Safety, 13, 342-344.
Collections