Airborne pollen records of Shomolu local government area in Lagos State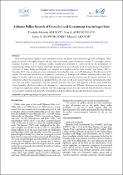 Abstract
Data on the prevalence of pollen in the atmosphere is limited and almost non-existent for Lagos State and Nigeria. Pollen grains are known to be highly allergenic and thus they are potential causes of respiratory diseases. To investigate airborne incidence of pollen, so as to construct a pollen calendar and contribute to current trends in the development of aeropalynology/allergy study in Nigeria, three highly populated locations in Shomolu Local Government areas of Lagos State: University of Lagos, Bariga and Gbagada, were sampled. Aero-samplers were harvested monthly from January 2013 to December 2013. After acetolysis treatment and analysis, the total pollen count was 4393, belonging to 38 pollen taxa and 29 families. The main taxa include Poaceae, Cyperaceae, Amaranthaceae, Ludwigia and Alchornea. Monthly pollen counts were highest in October and lowest in June. Almost three-quarters of the total pollen content came from grasses and weeds. This composition reflects the ornamental and grassland flora of the town, as well as the natural vegetation surrounding the urban area. The total pollen concentration correlates positively with the temperature and negatively with the wind, rainfall and relative humidity, which was similar in the dominant taxa Amaranthaceae and Alchornea. Dominant taxa Cyperaceae and Ludwigia have significant positive correlation with wheezing cough. Results from this work will form the basis for a forecast service required to inform and educate the general public and allergy sufferers about pollen distribution in Lagos State.
Keywords
Research Subject Categories::NATURAL SCIENCES::Chemistry::Biochemistry
,
aeropalynology
,
allergy
,
pollen grain
,
respiratory diseases
Citation
ADENIYI, T. A., ADEONIPEKUN, P. A., OLOWOKUDEJO, J. D., & AKANDE, I. S. (2014). Airborne Pollen Records of Shomolu Local Government Area in Lagos State. Notulae Scientia Biologicae, 6(4), 428-432.
Collections