The theory of Evil among the theologians in Islam and Traditional religion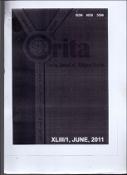 Publisher
Orita: Ibadan Journal of Religious Studies, Department of Religious Studies, University of Ibadan, Ibadan, Nigeria
Abstract
The theory of evil is one of the controversial issues in the Greek philosophy and religious beliefs. There is no religion in the world through which the discourse of the theory of evil is not thoroughly dealt with. This paper examines the theory of evil in the perspectives of the two selected religions namely Islam and Yoruba Traditional Religion (YTR). The study is ntroduced with the brief examination of the theory of evil from the philosophical perspective, as a background to this research. Conceptual clarification of some of the keywords that feature in the study is undertaken for contextual definitions. The study briefly examines the two religions. Then, the study moves on to thoroughly discuss the theological position of these two religions with the purpose of analyzing the technical and dialectical arguments of some of the theologians from both so as to highlight the differences and similarities in their views. The study finally moves to the conclusion with findings and recommendations for the benefit of future researchers and mankind.
Keywords
Theory of evil
,
Theologians
,
Islam
,
Traditional religion
,
Research Subject Categories::HUMANITIES and RELIGION::Religion/Theology::Islamology
Citation
Adegoke, K. A (2017). The theory of Evil among the theologians in Islam and Traditional religion. Orita: Ibadan Journal of Religious Studies, Department of Religious Studies, University of Ibadan, Ibadan, Nigeria, 43(1), 152-166.