Effects of aqueous extract of Sorghum bicolor on hepatic, histological and haematological indices in rats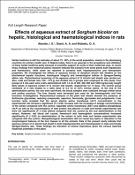 Abstract
Herbal medicine is still the mainstay of about 75 - 80% of the world population, mainly in the developing countries for primary health care. In Nigeria today, there is an upsurge in the acceptance and utilization of these herbal medicine partly because of scientific support for some of their medicinal uses. In recent times, findings from medicinal plants research indicate that extracts from some plants both hepatotoxic and hematotoxic, while some are reported to possess both hepatoprotective and hemopoietic properties. We investigated the effects of aqueous extract of Sorghum bicolor leaf sheaths on the biochemical hepatic functions, histological integrity and hematological indices in Sprague-Dawley albino rats. Phytochemical screening of the aqueous extract of S. bicolor leaf sheath was carried out. Also, male and female rats (100 – 210 g) and divided into 5 groups were employed for this study. Four groups of 6 rats each were orally administered with 1.0 ml of 200, 400, 800 and 1600 mg/kg body weight daily doses of aqueous extract of S. bicolor leaf sheath, respectively for 14 days. The control group consisted of 6 rats treated to a daily dose of 0.5 ml of 0.9% normal saline. At the end of the administration period, the rats were sacrificed; the blood samples were collected through orbital sinus and cardiac puncture. The liver tissues were harvested and used for the hematopoietic and liver functions investigations. Phytochemical analysis of the plant leaf sheath showed the presence of Anthracine glycosides, reducing compounds, saponins, flavonoids, glycosides and polyphenols. Liver function tests revealed that the serum alanine amino transferase (ALT) concentration in the experimental rats showed a significant (P 0.05) increase with the increases in dosage concentrations of the extract compared with the control. Aspartate amino transferase (AST) and alkaline phosphatase (ALP) as well as the concentrations of total protein and albumin in male and female experimental rats were not significantly (P 0.05) altered compared with the control by the oral administration of the extract. However, red blood cell counts, hemotocrit and haemoglobin concentrations increased significantly (P 0.05) on administration of the extract in both male and female experimental rats compared with the control. Histopathological examination did not reveal any lesion or alteration in the morphological features of the liver tissues in all the animals. Data of the present study indicate that aqueous extract of S. bicolor leaf sheath is both hepatoprotective and hematopoietic in male and female Sprague-Dawley rats. These findings are therefore of clinical importance given the various reported medicinal potentials of the plant.
Keywords
Research Subject Categories::NATURAL SCIENCES::Chemistry::Biochemistry
,
Sorghum bicolor
,
liver
,
rats
,
aminotransferases
,
hemoglobin
Citation
Akande, Idowu & Biobaku, A. (2010). Effects of aqueous extract of Sorghum bicolor on hepatic, histological and haematological indices in rats. Journal of Cell and Animal Biology. 4. 137-142.
Collections