Hepaprotective properties of aqueous leaf extract of persea americana, mill (lauraceae) 'avocado' against CCL4-induced damage in rats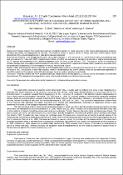 Publisher
African Journal of Traditional, Complementary and Alternative Medicines
Abstract
Background: Natural products from plants have received considerable attention in recent years due to their diverse pharmacological properties, including antioxidants and hepatoprotective activities. The protective effects of aqueous extract of Persea americana (AEPA) against carbon tetrachloride (CCl4)-induced hepatotoxicity in male albino rats was investigated. Materials and Methods: Liver damage was induced in rats by administering a 1:1 (v/v) mixture of CCl4 and olive oil [3 ml/kg, subcutaneously (sc)] after pre-treatment for 7 days with AEPA. Hepatoprotective effects of AEPA was evaluated by estimating the activities of alanine aminotransferase (ALT), aspartate aminotransferase (AST), alkaline phosphatase (ALP) and levels of total bilirubin (TBL). The effects of AEPA on biomarkers of oxidative damage (lipid peroxidation) and antioxidant enzymes namely, catalase (CAT), superoxide dismutase (SOD), glutathione peroxidase (GPx) and glutathione S-transferase (GST) were measured in liver post mitochondrial fraction. Results: AEPA and Reducdyn® showed significant (p<0.05) hepatoprotective activity by decreasing the activities of ALT, AST, ALP and reducing the levels of TBL. The activities of antioxidant enzymes, levels of malondialdehyde and protein carbonyls were also decreased dose-dependently in the AEPA-treated rats. Pre-treatment with AEPA also decreased the serum levels of glutathione significantly. Conclusion: These data revealed that AEPA possesses significant hepatoprotective effects against CCl4-induced toxicity attributable to its constituent phytochemicals. The mechanism of hepatoprotection seems to be through modulation of antioxidant enzyme system.
Keywords
Research Subject Categories::NATURAL SCIENCES::Chemistry::Biochemistry
,
Persea americana
,
carbon tetrachloride
,
hepatotoxicity
,
lipid peroxidation
,
antioxidants enzymes
Citation
Brai, B.I.C., Adisa, R.A., & Odetola, A.A. (2014). Hepatoprotective Properties Of Aqueous Leaf Extract Of Persea Americana , Mill (Lauraceae) 'Avocado' Against CCL4-Induced Damage In Rats. AJTCAM 11. 237-44.
Collections