Hero Motif in Achara's Novels: Ala Bingo & Elelia Na Ihe O Mere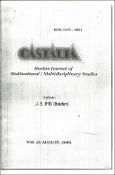 Publisher
Castalia: Ibadan Journal of Multicultural/ Multidisciplinary Studies
Abstract
The hero is a universal archetype of deliverance that lives in the collective unconscious of mankind. The concept of the hero is universal because it is found in all the traditions of the world. In the hero myths across cultures, we have personages who possess superhuman capabilities- primordial people or great men who transformed human conditions. Through their actions or deaths, these heroes liberate their people from oppressions or problems and challenges that threaten their existence. The problem may be famine, diseases, war, extermination, severe defeat in ravaging war, captivity or incessant raid on the people.
Keywords
Collective unconscious
,
Superhuman capabilities
,
Great men
,
Primordial people
,
Research Subject Categories::HUMANITIES and RELIGION::Languages and linguistics
Citation
Iwu, I. (2000). Hero Motif in Achara's Novels: Ala Bingo & Elelia Na Ihe O Mere. Castalia: Ibadan Journal of Multicultural/ Multidisciplinary Studies.
Collections