Haemoglobin and ferritin concentrations of pregnant women at term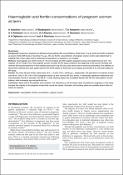 Abstract
Background: Anaemia in pregnancy is defined as haemoglobin (Hb) concentrations of less than 11 g/dL while low ferritin is defined as serum ferritin (SR) levels of less than 10 mg/L. Hb and ferritin concentrations of pregnant women at term were determined to establish their mean values and to determine the prevalence of anaemia in our locality. Methods: Haemoglobin and ferritin levels of 170 non-smoking and HIV-negative pregnant women were determined at term. The majority 143 of 170 (84.1%) of the pregnant women recruited for the study, booked at the beginning of the second trimester and received 200 mg elemental iron in three divided doses and 5 mg folic acid daily which were commenced at booking. Five millilitres of blood were collected from each patient at term into EDTA bottles for full blood count analysis and another 5 mL into plain bottles for SR assay. Results: The mean Hb and ferritin values were 10.9+1.9 and 47.84+98.39 mg/L, respectively. The prevalence of anaemia at term was 46.4%. Only 11.2% (19 of 170) of pregnant women at term had low SR (iron stores). A statistically significant relationship was found between women's education and SR (P 1⁄4 0.032). Booking status also correlated directly with SR and haemoglobin concentrations, while increasing age and parity did not. Conclusion: About half of the patients were anaemic. Iron deficiency is not the major cause of anaemia in pregnancy in this study because the majority of the pregnant women had normal iron stores. Education and booking status are possible factors that con- tribute to anaemia.
Keywords
haemoglobin
,
ferritin concentration
,
pregnant women
,
Anaemia
,
Research Subject Categories::MEDICINE
Citation
Adediran, A., Gbadegesin, A., Adeyemo, T.A., Akinbami, A.A., Akanmu, A.S., Osunkalu, V., Ogbenna, A.A. and Oremosu, A. (2011). Haemoglobin and ferritin concentrations of pregnant women at term. Obstetric Medicine, 4, 152-155.