Prevalence of HIV-related autoimmune haemolytic anaemia in Lagos, Nigeria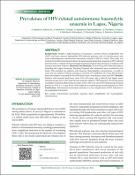 Abstract
Background: Despite a high frequency of anaemia, a positive direct antiglobulin test (DAT) and bone marrow hyperplasia HIV-infected patients, lack of reticulocytosis may cause underdiagnosis autoimmune haemolytic anaemia (AIHA) in them. This study was carried out to determine the prevalence of autoimmune haemolytic anaemia in HIV-infected patients and to compare the haematological/immunological characteristics of subjects with anaemia and those without. Materials and Methods: A total of 350 HIV-infected subjects attending the Lagos University Teaching Hospital who consented were recruited for the study. This included 250 subjects with anaemia (haemoglobin concentration <10 g/dl) as cases and 100 subjects without anaemia as controls. Five milliliters of venous blood drawn from each subject was used for the full blood count, reticulocyte count and DAT. Results: Subjects with anaemia had lower mean CD4 cell count (284.3 cells/μl) and higher mean reticulocyte per cent (1.5%) than the non-anaemic subjects. The frequency of reticulocytosis was higher in female subjects than in males. Only 0.8% (2 of 250) of the study group screened positive to DAT, p = 0.0339. None of the subjects in control group screened positive to DAT. Conclusion: Autoimmune haemolytic anaemia is a rare complication of HIV infection in our geographical location.
Keywords
Autoimmune haemolytic anaemia
,
direct antiglobulin test
,
haemoglobin
,
reticulocytosis
Citation
Adediran Adewumi, Adeyemo Titilope, Aghayere Osamuedemen, Osunkalu Vincent, Akinbami Akinsegun, Damulak Dapus, and A Akanmu Sulaimon. Prevalence of HIV-related autoimmune haemolytic anaemia in Lagos, Nigeria. Niger Med J. 2014; 55(1): 63–66.