Shari'ah Issue in the Contemporary Nigeria, 1979-2003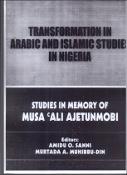 Publisher
Nigeria Association of Teachers of Arabic and Islamic Studies (NATAIS)
Abstract
Shari'ali legal system has been existing in Nigerian society since the pre-colonial days and it did not pose threats to the peace and harmony of the country until the contemporary Nigeria when the Shari'ah issues became a fuel for religious crisis. The Shari'an issues in Nigeria generated a lot of controversies and arguments that the country was nearly torn-apart. Shari'ah crisis in the contemporary period in Nigeria has reached its zenith since the official announcement of Zamfara State to codify the Shari'ah legal system and extend it to cover criminal matters in 1999. This development generated a lot of controversies among Nigerians. It is on this line that this paper aims at examining the Shari'ah. crisis in Nigeria in the contemporary period. The paper is introduced by the clarification of the misconception that Nigeria is a ecular nation whereas she is a multi-religious nation where several religious beliefs co-exist. The paper gives working definitions of some of the key words featuring in it and goes further to discuss Shari'an legal system in Nigeria from he historical perspective. The paper then examines the Shari'ah crisis in the recent Nigeria and its side-effects on Nigerians. It also casts a critical look at some factors responsible for the shariah crisis in Nigeria and how to curb them.
Keywords
Shari'ah Issue
,
Shari'ah legal system
,
Nigerian society
,
Shari'ah Crisis in Nigeria
,
Religious crisis
,
Research Subject Categories::HUMANITIES and RELIGION::Religion/Theology::Islamology
Citation
Adegoke, K. A. (2009). Shari'ah Issue in the Contemporary Nigeria, 1979-2003 " in Sanni, A. O. & Muhibbu-din, M. A. (eds.), Transformation in Arabic and Islamic Studies in Nigeria, Studies in Honour of Musa Ali Ajetunmobi, Nigeria Association of Teachers of Arabic and Islamic Studies (NATAIS), Department of Arabic, usmanu Danfodiyyo University, Sokoto, Nigeria, 109-119.