AP-PCR and antimicrobial susceptibility patterns of Fusobacterium nucleatum associated with chronic periodontitis among patients at Lagos University Teaching Hospital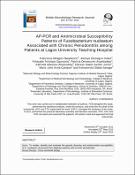 Publisher
SCIENCEDOMAIN international
Abstract
Aims: To isolate, identify and evaluate the genetic diversity and antimicrobial susceptibility of F. nucleatum recovered from Nigerian patients with chronic periodontitis. Study Design: Cross-sectional design. Place and Duration of Study: Department of Medical Microbiology and Parasitology, College of Medicine, University of Lagos, between January 2007 and July 2008. Methodology: We analyzed F. nucleatum species recovered from Nigerian patients with chronic periodontitis. Bacterial identification was done using colonial morphology; Grams stain reaction, conventional biochemical tests, API 20-A and Polymerase chain reaction (PCR). The minimum inhibitory concentration (MIC) of 6 antibiotics was determined by agar dilution method on Brucella blood agar while the bacterial genetic diversity was studied using the Arbitrarily Primed-PCR (AP-PCR) method with the arbitrary primer OPA-05. The interrelationship and genetic similarity matrix among the isolates was determined and by Numerical taxonomy and multivariate analysis system (NTSYS-pc) statistical package. Results: We obtained 48 isolates of F. nucleatum from 50 Nigerian patients (28 males and 22 females) with chronic periodontitis. They were susceptible to metronidazole, clindamycin, cefoxitin, tetracycline, amoxicillin and clavulanate. One was resistant to amoxicillin (MIC >32 µg/ml) and produced β-lactamase. The isolates were further placed into five groups (A, B, C, D and E) based on their AP-PCR profile. Conclusion: The AP-PCR analysis showed heterogeneity among strains. By using APPCR, we observed a single β-lactamase producing clone resistant to amoxicillin which eventually formed a distinct group showing that such genetic difference may have contributed to the formation of a separate clone.
Keywords
Arbitrarily primed-pcr
,
Anaerobic bacteria
,
Fusobacterium nucleatum
,
Antimicrobial susceptibility
,
Chronic periodontitis
Citation
Nwaokorie, F.O., Coker, A.O., Ogunsola, F.T., Ayanbadejo, P.O., Umeizudike, K.A., Gaetti-Jardim, E. Jr, Avila-Campos M.J. and Savage K.O. (2012). AP-PCR And antimicrobial susceptibility patterns of Fusobacterium nucleatum associated with chronic periodontitis among patients at Lagos University Teaching Hospital. British Microbiology Research Journal, (2), 97-107.